If you are reading this, I assume you are familiar with PanterA and what they meant to heavy metal and the community within. I'm also going to assume that you are well aware of the drama and infighting that eventually dissolved PanterA and the tragic events of Dec. 8, 2004 that seemed to destroy any possible hope of a PanterA reunion. Yet that hasn't deterred the Facebook community any and there is a
cause you can join and donate to
to get the surviving members of PanterA with a stand-in guitarist to do a reunion tour to keep the PanterA community happy. When the local radio station first announced this, my gears immediately started whirring and contemplating the concept of my favorite band, albeit with a different guitarist, hitting the road for the first time in 10 years. I'm not entirely sure the person who started this cause, nor the people who have joined it, knows exactly how lenghty of a fight is ahead of them. There are many blocks in the road that make up a colossal beast of improbability that one needs to take into consideration, such as:

Who Stands In For "Dimebag" Darrell Abbott?
Sure, one can learn songs written and performed by a guitarist, but can you truly replicate one's
style
? This is quite possibly the biggest complaint that people have with the idea of a PanterA reunion,
co-founding member and drummer Vinnie Paul Abbott included.
PanterA is remembered most notably for the guitar work from Dime even before his death, and much like Hulk Hogan to wrestling, there'll never be another guitarist like Dime, so this presents any guitarist with the task of taking his place (even temporarily) with almost impossibly large shoes to fill, even with the two likely candidates
Zakk Wylde
of Black Label Society or Slayer's
Kerry King
. Both are great guitarists in their own right and were good friends with Dime, but they also have styles that don't replicate Dime's sound enough to do it justice. If you're going to have a PanterA reunion tour, shouldn't it sound like PanterA and not three of the original members ft. a guest guitarist trying to sound like PanterA?

Will Phil Anselmo's Old Habits Stay Buried?
The parties thrown by PanterA were the stuff of legend, but unfortunately, so were the personal habits of frontman Phil Anselmo. The drinking, the drug trips, OD'ing on heroin which left him dead for four to five minutes, Phil was truly living the life of a rock star with the amount of contraband around him, but he wasn't just doing this because he was on top of the world but because of his back pain and couldn't afford to take time off touring for the surgery. He admitted in the
VH1 Behind The Music
episode on PanterA that this was about as effective as "putting a band-aid on cancer" and from reading interviews from him as well as record executives who have spoken to him in recent years, Phil Anselmo has cleaned up his act from the hellion he was back in the PanterA days. However, one cannot help but wonder if a reunion tour were to happen if the old temptation of reliving the glory days offstage would arise in Phil and the hard drugs would begin flowing through his veins again. The effects of the drugs and alcohol Phil abused were seen onstage in PanterA's later years as well as in Phil's side projects before he cleaned up, and it would be heartbreaking to see him fall apart like that again.

Can Everyone Maintain A Professional Relationship Throughout The Tour?
Ever since PanterA crumbled, most of the press interviews and news stories were, as bassist Rex Brown so eloquently put it, "A bunch of 'he said she said' nonsense." Dime and Vinnie would give their side of the story as to why things with PanterA weren't working out and then Phil would come around and say something that didn't match Dime & Vinnie's story. Sadly, this continues to this day as Phil Anselmo offers Vinnie Paul a chance to
come back into his life
but Vinnie is not interested, sticking to his guns that if they had been able to work out their differences back in the day, PanterA would still be around and Darrell Abbott would still be alive (in my stubborn nature, I'd probably be doing the same thing if I were in a similar situation). Let's say for argument's sake that Vinnie and Phil call a truce so that the fans can see some incarnation of PanterA one last time, could they truly maintain that peace for the duration of a world tour? Furthermore, what if the stand-in guitarist has some sort of beef with either Phil or Vinnie because of this media war of words? This reunion tour would require more counseling than when Metallica recorded
St. Anger
.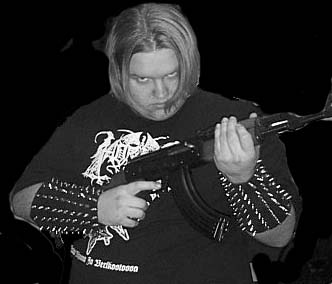 What About Naysayer Fans?
Regardless of what you do and where, there's always going to be the group of people that will stand up and proclaim, "This is a REALLY bad idea!" From the research I conducted for this blog, it seems that for every person who is all for a PanterA reunion tour, there is at least one person who thinks that for one reason or another it's a horrible idea. I've read reasons that range from "Phil's a tool," "Zakk Wylde is overrated," to "Vinnie's a sellout and would only do this for money," or "PanterA died when Dime did." If someone is starting a cause for a PanterA reunion on Facebook, perhaps someone in charge of putting a tour like this together should put it to a vote on various social networking sites and
let the fans decide
whether or not PanterA should attempt to reunite, this way anyone who is against the idea has a chance to plea their case against it and it would be a fair decision in the end because each side has had their input and it would just be up to the numbers to decide.
Now, like I mentioned earlier in this blog, I LOVE PanterA and I am not writing this blog to try and persuade anyone's thoughts on it. I included the link at the beginning of the article if you wish to support this cause and if you do, great. For the sake of anyone who does support the cause, I hope something comes out of this because it would just go to show you (again) how powerful a tool Facebook can be. Me? I want to support this cause, but I think there's too many variables involved that makes the idea of a PanterA reunion more trouble than its worth. It's not like their legacy has weakened where it matters. As long as fans wear the shirts, sport the tatts and crank the tunes, PanterA's spirit lives and will continue to do so for years to come. Why spoil that with a reunion that could turn really ugly really quick?
However, if this tour does happen and is well received, I will record and post a video apology to all parties involved on my YouTube account.
-The Cynic